This past week, I was so excited to record with Jim Sturtevant on his podcast,

Hacking Engagement

. Jim invited a few student and I to share some things I've been doing in my classroom. I've been listening to Jim's podcast since the spring and have been inspired in so many ways to better engage my students. I love that the podcast not only includes REAL teachers' stories but

REAL STUDENTS' STORIES

! So much of the content Jim puts out there is so applicable to my class as he is also a social studies teacher, albeit in high school. I am so inspired with Jim's continued dedication to be the best educator he can be! He seems to have every bit of passion he had on day one of his career! I aspire to be like this! Jim and I connected on Twitter this summer... I forget what the connection was, but we ended up talking about a prospective project I had in mind: a movie critique involving contemporary movies in the mainstream. I wasn't quite sure what the project would entail, but the cogs were turning in my mind.

I teach two 6th grade Geography classes and I was inspired to include this assignment in the Human Geography Chapter CYOA Menu.

---

So, what did the "Movie Critique Assignment" look like?

You are hired as a film critic! There are so many films out there that depict history, people in history, events, and/or different cultures. Your challenge is to identify what those movies "got right" and what they "got wrong."

This assignment will need to be completed at least partly at home, if you choose it.
Choose one movie rated PG or G (No PG-13 or R) (Note: I teach 6th grade, hence the strict requirements) that takes place in a country other than the United States. (You may need to do a little research first to find a movie.) See if you have any movies at home either on DVD or on Netflix.

Please have your movie pre-approved by Mr. Soper before watching. The movie should also be approved by your parents.

You will be watching and observing the culture as portrayed in your movie. Feel free to take notes throughout the movie of parts of culture that are evident.

After the movie, you will write a reflection paper sharing what you have learned and observed.

In your reflection, you should included the following:

(Should be completed using Google Docs. You will need to create your own doc, then share.)

PARAGRAPH ONE

sharing

7-10 DETAILS

from the movie that reflect an element of culture from that country. (Think back to Section 2 - e.g. Arts, Food, customs, etc.)

In your reflection, you must share the detail and its significance. For example, after watching Aladdin, one may say, "Aladdin wears harem pants which were originally worn by Persian people and are very colorful. They are traditionally worn in India, Pakistan, and Bangladesh."

(I used Google to learn what these pants were called.)

PARAGRAPH TWO

sharing what you believe the film portrayed incorrectly or correctly. Try to include at least three details from the film

For example, did they eat foods that were not traditionally eaten in that country? Do they wear clothes that are not traditionally from that country? Be creative! This part of the assignment will STRETCH your thinking.

When finished, be sure to

share your assignment with Mr. Soper

AND

on Seesaw

.

Notes about the Assignment:

How did this go over with the students?

From the introduction of this project, students were hooked! Students were psyched with the possibility of watching a movie they loved as a part of a class assignment! For days, I was getting questions such as, "Mr. Soper, can I do this movie? Do you think this movie will have enough cultural elements? When can I get started?" Engagement. Win #1!

After students watched the movie at home, we worked on the critiques for three days in class. They watched movies such as Snow White (Germany), Moana (Pacific Islands), and Beauty in the Beast (France), to name only a few. The students took their notes at home and "went to town!" (Yes... they did this at home. Logistics make it near impossible to do this at school, so I sent this assignment home even though I have been transitioning more and more toward the #ditchhw end of the spectrum...)

Throughout the workshop periods, I conferenced with all my students regarding the CYOA assignment that they had chosen to work on. I noticed an uptick in excitement especially from those students who had chosen the "movie critique." These students were able to take a passion (favorite movie) and apply to what we were learning in the classroom. With this engagement, students did such a wonderful job in observing those cultural elements (language, architecture, clothing, etc.) evident in the movie. Many students looked at these popular movies from a completely new perspective and learned much in the process. WIN #2!

I look forward to using this assignment again, both in this exact context but also in my US History classes! I believe there was such high engagement with this project due to the degree of choice. Still, the assignment has the potential to be a major success when using with any mainstream film in the classroom! (Ideas floating around my head: Saving Private Ryan and Pearl Harbor, Hacksaw Ridge, to name a few...) We need to bring the world the students are already consuming into the world of our classrooms!

Can't wait to try to this again! Close to max engagement with this one!
Powered by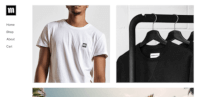 Create your own unique website with customizable templates.